ISLANDS ARE MYTHIC PLACES. Crossing water to reach them, it is easy to feel that we are leaving the complexities of everyday life for an elemental world governed by the natural rhythms of sun and wind and tide. Albums, in contrast, root us in our past, preserving the everyday life of childhood, of animals, people and places we have loved.

Island Album presents us with both the idea and the reality of one New Jersey barrier island. Here is Long Beach Island in the days of pound fishing and great hotels, but here, too, are individual fishermen showing off their catches and a gaggle of summer waitresses posing for a group picture in their brief spare time. Children of every decade personify summer as they romp on beaches and mess about in boats. Teenagers are teenagers, recognizable at work and play, from the 1920s through the 1960s. Houses evolve from simple shanties into Victorian "cottages" and finally modern structures with walls of glass. But all are home to the families gathered for the camera on porch and dock.

The text, drawn from interviews taped over a ten-year period, combines descriptions of life on the Island with what the Island represents to those who have known it well. Here are stories of sailing and fishing, of treks by car, train and foot, of beach camping, life guarding and coastal rescue, of violent storms and the endless struggle to resist a hungry see. There is, of course, some regret for wilderness lost and the slower pace of much of the last century. Yet something quintessential about Long Beach Island remains. This fragile strip of land between bay and ocean captures the imagination today as much as ever, and this loving evocation of its past can only enhance its present.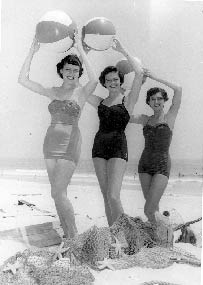 REVIEWS
"A coffee table book to be savored — not only by those who love Long Beach Island, but by anyone interested in the history of American seaside resorts."

"The 207-page book shows the island and its people from the late 1800s to the present, including many images that disappeared into attics generations ago and have never been seen in public before."

"Each picture is fascinatingly worth the proverbial thousand words. Monstrous fish; death-defying Scandinavian fishermen; rough tents and clotheslines pitched on the dunes; grand old hotels; young people in a Ford truck forging across the beach in 1939, passing the remains of a wrecked ship. But as time fades facts, pictures alone couldn't tell the story…. Island natives narrated tales of rum-running, raging storms, and the good life back when."