BOOK DESCRIPTION
After being shanghaied aboard the bark Sindia and surviving a shipwreck on the New Jersey Shore, a twelve-year old Japanese boy finds himself thousands of miles from his home and family — alone on the bustling docks of New York City. The year is 1901, and Takashi has made his way to New York's South Street Seaport, determined to find passage home. Our resilient young hero's adventure continues in this sequel to Takashi's Voyage. Set in a changing world — the end of the age of tall ships — Takashi becomes the cabin boy on the Astral, and begins another voyage, this one hopefully taking him home at last.

The book includes a nautical glossary, a cookie recipe, and an author's note about the difference between fact and fiction in a historical novel.


ADVANCE PRAISE
"Weeks after reading the story of Takashi's predicament and being introduced into the lives of the friends who help him get back to Kobe, the sensations evoked by his richly detailed adventure will linger."
— Tania Aebi, first American woman and youngest person to sail around the world; author of Maiden Voyage

"Lucinda Hathaway has done it again. She has spun an intriguing tale combining a seafaring Maine family and the romance of the sea and ships, with accurate historic detail."
— Captain Dan Pease, former owner of the schooner Lewis R. French, Camden, Maine.

"Revel in the billowing sails, the salt spray and the surge of a moving deck! This seafaring tale is filled with challenge and discovery. 'Round the World rings with authenticity.''
— Frank Remkiewicz, author; illustrator of the "Horrible Harry" and "Froggy" series

EXCERPTS
Copyright © Lucinda Churchman Hathaway. Illustrations copyright © Marrilyn Ganss. All rights reserved.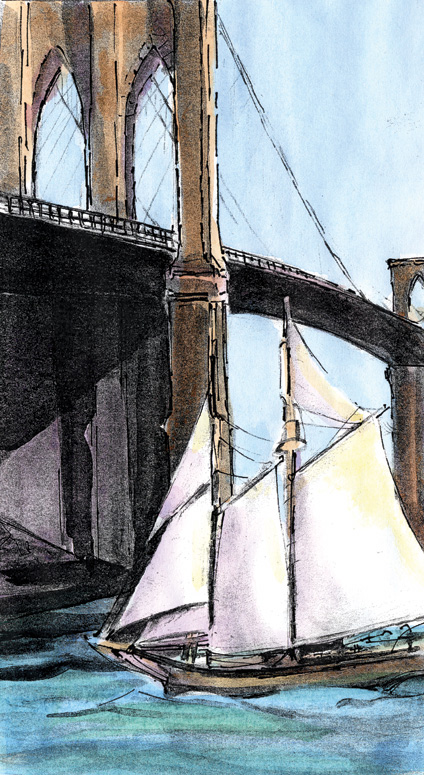 Chapter 1: New York City

"Cookie, that hurts!" Blood trickled down Takashi's neck as the old sailor, Cookie, forced the gold ring through his earlobe. They were standing by Pier #16 on Front Street, New York Harbor, in the shadow of the Brooklyn Bridge.

"You're a Cape Horner and I want you to have my earring." Cookie grabbed a handful of snow and washed away the blood. Done! Takashi had a gold earring in a sore left ear marking him a sailor who had sailed around Cape Horn. He pulled his wool cap down over his throbbing ear and watched Cookie sling a duffle bag over his shoulder and prepare to leave.

"Domo arigato," the Japanese boy said. "Thank you."

"You're welcome, lad," said Cookie. "Wish ye'd come along. I could find you a bunk in Liverpool and ye'd find passage to Japan there." Cookie almost hugged the boy but the old sailor was too tough to do it.

"I must find ship here in New York and go home." Takashi's voice sounded firm, but he was not sure he was making the right decision.

Takashi and the entire crew had been rescued by the lifesavers six days earlier when their vessel, the Sindia, wrecked 300 feet off the boardwalk in Ocean City, New Jersey. The huge bark was stuck on a sandbar very close to shore. Drying out and getting warm took three days. The officers and crew rode the train to Philadelphia where the British Admiralty tried and convicted their Captain MacKenzie and first officer, George Stewart. The penalties were harsh. Captain MacKenzie lost his captain's papers and George Stewart lost his rank. The officers were found to be responsible for running a ship aground in charted waters, an offense of negligence.

Philadelphia can be a cold, dark city in December. During the court trial the entire crew was cramped in the Seaman's Institute lodgings, miserable damp cold rooms. There they waited, hoping their captain would not be charged with negligence. The crew felt that the wreck was an accident. Once the guilty verdict announced, they sadly left their captain and headed to the grand port of New York where the seamen hoped to find ships to sail them home to England. Liverpool, England, was the homeport for most of the Sindia sailors.

Takashi was determined to find a ship sailing to Japan or Shanghai. He was certain that if he could get as far as Shanghai, going home to Japan would be possible. Every day ships from Shanghai called at his uncle's warehouse in Kobe, Japan. Takashi would find a way home.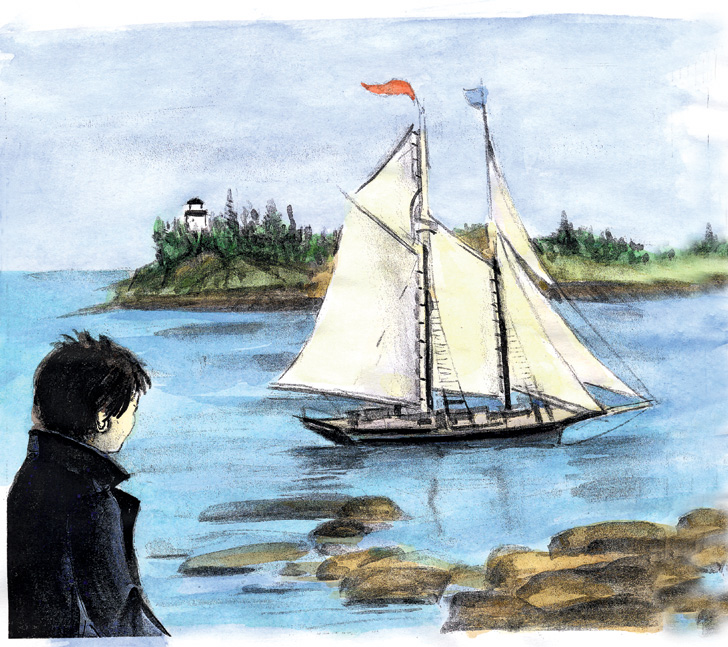 Lucinda Hathaway ("Cinda" to her friends) has traveled all over the world, mostly by ship. She lives, with her husband Jack, in Longboat Key, Florida — a quiet island in the Gulf of Mexico. She had previously lived on another island, Ocean City, New Jersey, and there she became intrigued with the Sindia, a steel bark that ran aground in 1901 and became the inspiration for her first book, Takashi's Voyage. Her family has vacationed in Maine for almost forty years, so it was natural for her to set this sequel on a Maine Downeaster. She can often be found sailing her sloop Eventide. Cinda is happy to share her love of the sea and our natural world with an audience of children eager to learn, and she regularly visits schools to share all of Takashi's stories.
OTHER BOOKS BY
LUCINDA HATHAWAY