It was aptly called the "Showplace of the Nation" and it was all that and more.

There were big bands, movies, sideshows, acrobats, flag-pole sitters, Miss America — and throngs of people lining up to sit on bleachers to watch World Famous High Diving Horses and their brave riders dive into a pool of water.

For much of the 20th century Steel Pier in Atlantic City was the center of American entertainment on the East Coast. Nearly every big-name entertainer — from John Philip Sousa and his band to Tommy Dorsey, Benny Goodman and Frank Sinatra – played there. And nearly every form of entertainment that could be imagined took place at Steel Pier — from high wire acts to people being shot out of cannons, from Hawaiian High Divers to the Diving Bell that took you to the sea floor.

There was the Marine Ballroom, and there was rock and roll. There were circus-like animal acts – "Rex The Wonder Dog," a 70-ton Whale, Fortune-Telling Parakeets, Wild Animal Babies, and Boxing Cats.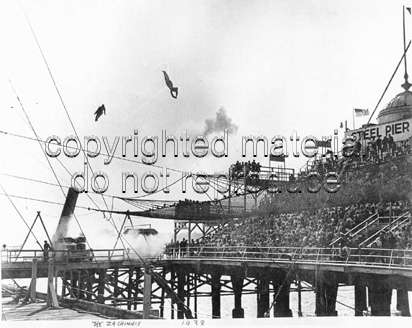 This all-in-one entertainment Mecca, novel in its day, has never been matched, not even at latter-day theme parks. Where else could you take the entire family for a day and see the World of Tomorrow, Sousa and his band, a bear on a bicycle, and the High Diving Horses? Or take a ride below the sea, spend the evening in the marine ballroom, and see a movie — all for one ticket? It was a colossal offering of escape, popular culture, fun and fantasy.

They came in droves from the cities – Philadelphia, Camden, Pittsburgh, New York, Newark, Wilmington, Baltimore – throughout the northeast and beyond, by train and by car – entire families – drawn to this fantastic pier over the Atlantic Ocean. They were guided by billboards, kitschy roadside displays, and signs painted on inner city buildings. The marketing was hyperbolic – even by today's standards. But, with Steel Pier, the hype actually matched what was being offered.

Today, the novelty and innocence of the golden age of the Pier seems a world apart. Yet it was an institution — not to be missed. It was an empire of grand-thinking impresarios, oddities and glamour that meshed into one cohesive and attainable summer destination.

Steel Pier, Atlantic City: Showplace of the Nation, examines this attraction in a large-format, full-color coffee-table book. Author Steve Liebowitz begins with a brief history of seaside entertainment piers, competing piers in Atlantic City (such as Million Dollar, Heinz, and Steeplechase), and the uniquely American opportunities that Atlantic City presented its owners. The book carries us through incarnations of Steel Pier into the late 20th Century.

Filled with 227 historic photographs and other images, this book chronicles the rise of one of America's most remarkable entertainment venues – "A Vacation In Itself," as the slogan went – and how it mirrored American society from 1898-1978. For three-quarters of the last century, long before theme parks were imagined, there was nothing like it. Steel Pier was Atlantic City.

In fact, Steel Pier was an incredible combination of Broadway, Miami, Las Vegas, Hollywood, Barnum and Bailey, and a state fair – "All For One Low Admission." Crowds were drawn from New Jersey, New York, and Philadelphia, of course, but also from the entire country. The renown of Steel Pier was so great that A-list performers chose the Pier over other venues.

A fascinating contribution to not only New Jersey and Atlantic City history, but also the history of American entertainment and popular culture, Steel Pier, Atlantic City evokes a time when there was so much invention, talent and industry that it could only be experienced in one place — at the edge of the continent, in a city that took its name from a vast ocean, on a great pier reaching out into the sea.